Due to their exposed location, rooftop sites have a higher likelihood of being affected by lightning strikes and thus also the resulting surges associated with them.
When installing mobile communication systems on roofs and hosting structures, local conditions must be taken into consideration: Can the radio system be integrated into an existing lightning protection system or must it be protected separately?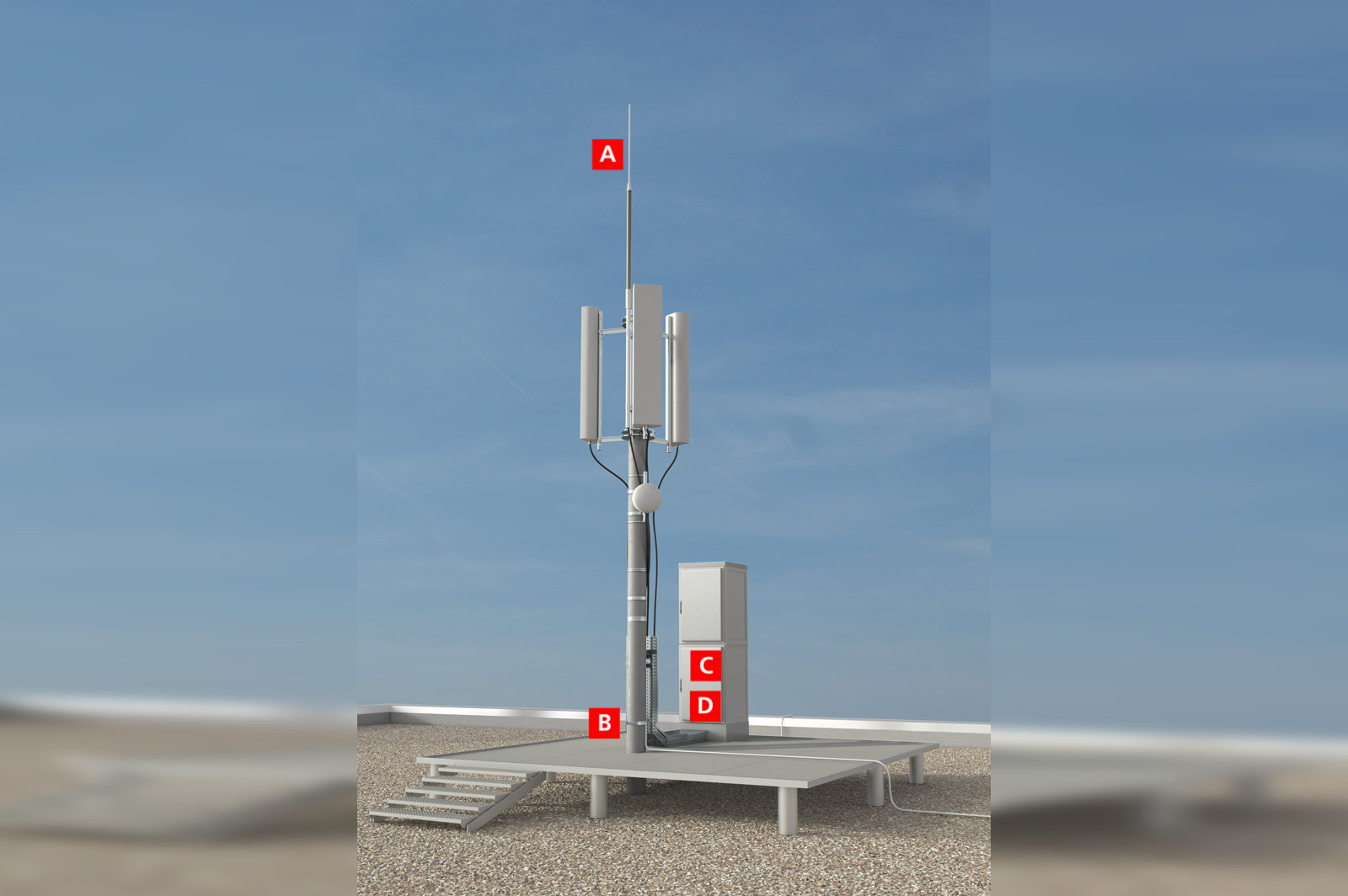 Two initial situations for the installation of a lightning protection system
Lightning protection system present
If there is already a lightning protection system on the building, the mobile communication station will be integrated into this system.
Lightning protection system not present
When constructing a new mobile communication system, setting up an isolated lightning protection system is recommended. This ensures that the separation distances to the sensitive mobile communication technology are maintained and no lightning currents can enter the hosting structure. 
Both scenarios can be comprehensively dealt with using the DEHN white paper Protection for Mobile Communication Systems (4G/LTE). We are happy to provide you with this as a registered user.
Comprehensive lightning protection system for reliable protection
For a comprehensive lightning protection system, external lightning protection (lightning protection and earthing) and internal lightning protection (equipotential bonding and surge protection) must be considered in equal measure.
Equipotential bonding reduces the potential differences caused by lightning currents.
Surge protective devices prevent damage that can occur due to high electrical voltages (e.g. caused by lightning).
Rooftop site
products
See for yourself. We offer you a comprehensive, useful, harmonised, complete range of products for the rooftop sites of cell sites, enabling you to plan, purchase, install and service efficiently.
DEHNvap NG
Specially developed for mobile communication systems and ready for 5G: the pluggable combined arrester for three-phase TT and TNS systems protects the power supply in just 4 modules. DEHNvap NG is one of the smallest modular combined arresters on the market.
DEHNvap NG details
Brochure
DEHN protects cell sites
All protection solutions and products summarised at a glance
.pdf 1.6 MB
Selection guide
Mobile communication product selection
Easy product selection using a QR code or menu
.pdf 1.6 MB
White paper
Protection for mobile communication systems (4G/LTE)­
Detailed, compact protection solution
.pdf 2.8 MB
DEHNconcept
Use a tailored concept for lightning and surge protection for your project and benefit from over 20 years of experience in the planning of lightning protection systems for cell sites.
Help and support
We are happy to answer any questions you may have on the topic of cell sites.
You can reach your contact person at [email protected].